Ticket Reminder

Thank you for purchasing tickets
We understand that attending a performance requires some planning, so we've put all the information you'll need to know prior to your arrival in one convenient place. This information is also sent to the email address on the account that purchased tickets usually 48 hours prior to the performance.
Choose either Paramount Theatre or Copley Theatre in the menu. Please know that some information may differ based on the show and performance dates/times. If you have any questions, please do not hesitate to call the box office at 630.896.6666 – open Monday-Saturday, 10 a.m.-6 p.m. and Sunday, Noon-4 p.m.
Once
Please read the following to plan your visit to the Paramount Theatre:
Main lobby doors open 1 hour prior to show time. Theatre seating starts 30 minutes prior to show time.
Runtime: 2 hours and 20 minutes including one 15-minute intermission.
Rating: PG-13 for several four-letter words & mild sexual innuendo.
Address: The Paramount Theatre is located at 23 E Galena Blvd, Aurora IL 60506.
Special Effects: This show includes the use of water-based fog and haze that dissipates in the air.
Stage Bar Is OPEN: Grab a drink from the onstage bar featured in Paramount's production of Once! The bar will be open to the audience when theatre doors open before the performance and during intermission. Please know, there is a limited number of patrons we can accommodate at the stage bar. We will cut off the line to the bar when we reach capacity. Credit/debit cards and Paramount Theatre gift cards accepted. No cash. This bar only serves Jameson Irish Whiskey (neat or on the rocks) and Harp Lager for $6 each. You must be 21 years or older and have valid photo ID to drink. Out of respect for the artists and in adherence to the union rules that we are contractually obligated to enforce, all photography and video recordings of the bar and stage are strictly prohibited.
Construction Alert: Due to construction taking place on Stolp Avenue between Downer Place and Galena Boulevard, patrons may experience a slight delay when traveling through that area. Additionally, construction has closed down the eastside Stolp Avenue sidewalk. Please use the sidewalk on the opposite side of the street when walking to the theatre.
Navigating The Theatre: There are three bars, three bathroom facilities and one elevator. The elevator is located north of the Grand Gallery main lobby staircase and goes to the main and upper levels of the lobby. Bathrooms are located on the main level just south of the Grand Gallery bar, on the upper level next to the elevators and down the stairs across from Aisle 3. The bars are located in the Grand Gallery on the main level (busiest bar) and upper level, as well as in the original lobby located across from the Aisle 1 entrance. Please note: some bar locations may not be open for certain performances. Open bar locations will be posted above the main bar in the Grand Gallery.
New Ticket Exchange Policy: Subscribers may exchange tickets for the same show title at no charge up until one hour prior to show time. Please no exchanging tickets once lobby doors open one hour prior to show time or after the show has started. If you can't make your subscription performance, simply call the box office at 630-896-6666 no later than one hour prior to your show time. We'll exchange your tickets to another performance of the same show title of equal or lesser value for free. If you select a performance or seating zone that costs more, simply pay the difference in price. For non-subscribers, same rules apply but an exchange fee will be incurred.
Photo Policy: Out of respect for the artists and in adherence to the union rules that we are contractually obligated to enforce, all photography and video recordings of the stage, as well as of the production itself (including audio recordings) are strictly prohibited.

Parking: While Paramount Theatre does not own or operate any parking facilities, there are numerous parking options in the area, including city parking lots, garages and street parking. Valet parking is available for $11 or premium first-out valet for $20. Valet opens one hour prior to show time. Please line up for valet on Stolp (not Galena). For your convenience, local parking is available for a fee at the municipal garage located near the corner of Stolp Avenue and Downer Place, just two blocks south of the Paramount. Please do not park in the Hollywood Casino garage at the corner of Galena Boulevard and River Street. It's not an authorized lot for the theatre, and rates increase significantly on show days. There are also long wait times to get in and out of that garage. VIEW PARKING OPTIONS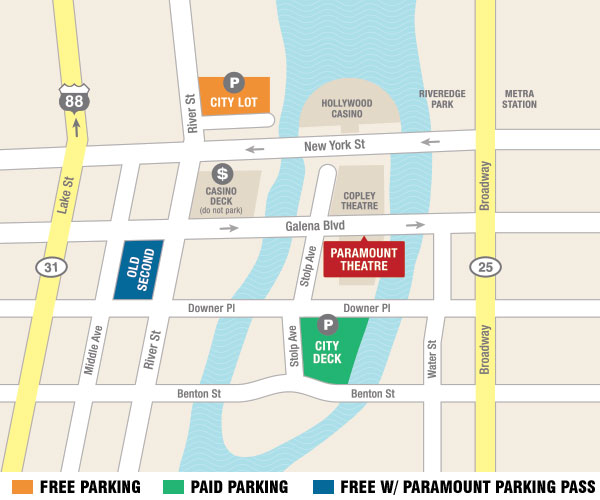 Lobby Seating: Even though there are over 100 seating options in our lobby, please know that seating is limited. You can find additional seating on the second floor of the main lobby. Elevator is located to the left of the first floor bar by the restrooms.
Late Seating: Please arrive to the theatre no later than 15 minutes prior to show time and be in your seats no later than 5 minutes prior. Allow extra time for parking or using valet. Late patrons will be seated in the back of the house until intermission at the discretion of the Front of House staff.
Theatre Etiquette: We ask that patrons be respectful inside the theatre. This applies to all ages and includes talking, cell phone use, intoxication, vocal outbursts and general disturbances. We reserve the right to remove any patron from the theatre causing a disturbance to other patrons and the performance. Also, you are required to sit in the seat you purchased and that's noted on your ticket. If you're seated in another patron's seat, it may delay or disrupt the start of the show.
Coat Check: Coat check is available to you free of charge, located to the left of the Grand Gallery staircase.
Photo Opportunities: Stop by and take a photo with the Once backdrop behind the Grand Gallery staircase. We invite you to share your photos on social media using #OnceAurora. If you're a Snapchat fan, have fun using our custom Once filter, too!
Have Your Tickets? If you selected "E-Ticket" when placing your ticket order, please be sure that barcodes appear on the tickets when printing from home. The tickets were sent as an attachment in the confirmation email you received for the order. If you can't get them to print or lost your tickets, call 630-896-6666. You may also use your smartphone to display the PDF of your ticket. Please turn up the brightness on your phone when doing so. Please double check the delivery method you used when purchasing your tickets. E-Tickets will always be sent to the email address you provided when purchasing your tickets. Tickets will only be held at Will Call if you requested it when purchasing your tickets.
Will Call: The Will Call window is located in the main lobby across from the Grand Gallery Bar. If you exchanged your tickets to this performance time, your new tickets will be waiting for you at the Will Call window.
Accessibility: Paramount Theatre offers assistive listening devices free of charge that are compatible with earphones and/or a Neckloop Telecoil Coupler (for T-Coil enabled hearing aid devices). Please visit the coat room before the show to borrow a listening device. LEARN MORE
Food & Drink: You may purchase beverages from our full service bars in the lobby. Food is also available for sale at the Grand Gallery bar only. For speedy service, check out the menu in advance and have your order ready before you reach the counter. We accept cash, all major credit cards and Paramount Gift Cards. We card everyone, no matter how old or young you look, so please bring a valid photo ID if you wish to purchase alcohol. You are welcome to enjoy beverages in the theatre, but food is not allowed inside the theatre. VIEW BAR MENU
Dining Options: Want to grab a bite to eat before or after the show? Try Leland Legends Pub & Grill located at the corner of Galena and Stolp, just one block from the Paramount Theatre. Enjoy a selection from their new food menu, and check out their list of craft beers and signature martinis. Call 630-264-5000 or click here for reservations (under new management).  VIEW DINING OPTIONS
Metra BNSF Line: The Paramount Theatre is also conveniently located just 5 blocks from the Aurora Transportation Center with train service from Union Station on the Burlington North Santa Fe Metra Line. SEE TRAIN SCHEDULE
Personal Items: Bags and other personal belongings are subject to search at the discretion of theatre staff. READ MORE
Premium Guest Experience: If you have Premium Guest Experience tickets, please enter through the original lobby, just left of the main Grand Gallery entrance. Don't have PGE tickets? Consider it next time and enjoy open bar, hor d'oeurves and dessert before the show and during intermission in an exclusive area with a private entrance and personal concierge. LEARN MORE
About the Show: MEET THE CAST | DIRECTOR'S NOTES | DAY ONE PHOTOS
Meyer Ballroom: Looking for an elegant place to host a wedding reception? Located across the street from the theatre, Paramount's Meyer Ballroom is the perfect place for your wedding and special event needs. LEARN MORE
DON'T OVERPAY ON OTHER SITES! Buy directly from ParamountAurora.com. LEARN MORE
Quick Links: PLAN YOUR TRIP | DINING OPTIONS | MAKE A DONATION
If you have any questions, please do not hesitate to call us at 630.896.6666.
We realize there are numerous entertainment options in the Chicagoland area, and we appreciate you choosing us. We'll see you at the Theatre.
There are no events in the Copley Theatre at this time.